We chose a Rinnai tankless water heater with a recirculation pump, instead of a traditional water heater. I think the recirculation pump is the "coolest" feature of all, and I'll describe it later. The unit is natural gas fired, and mounted on an exterior wall in the garage. Our Model is a Rinnai RUR98.
Here is a picture of the unit installed. As you can see it vents directly outside, so there is no need for a separate through-the-roof exhaust vent. And its easily accessible from the outside, in case of repairs or adjustments.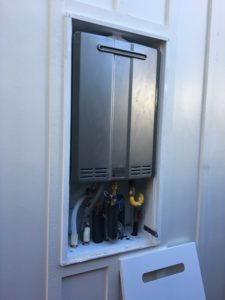 The heater comes with an external digital controller, shown here, which sits inside the garage on top of the metal case which encloses the water heater. Apparently, there is an option to add a wireless controller, which we have not yet done.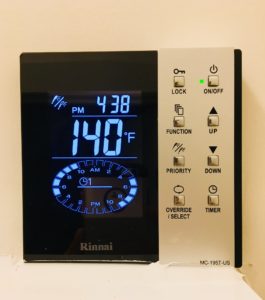 One of the best features is the recirculation pump, which is built into the unit. Since, this house was a new build, our plumber installed a hot water recirculation loop which runs to each bath and sink. That way, when the reciculation cycle is on at the heater, you have nearly instant hot water, similar to what you find at nice hotels.
The controller has a setting where you can configure the daily time for the recirculation pump to run, typically in the morning and at night. Or, you can just manually turn it on from the controller. When the unit is recirculating, it is clear that the heater is firing, so you do pay an energy demand price for the instant hot water.
We are still playing with it all. I am not yet sure of the energy use, especially with the recirculation pump running.