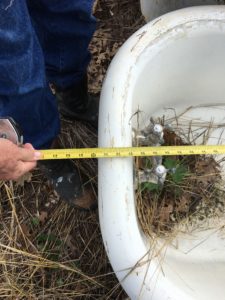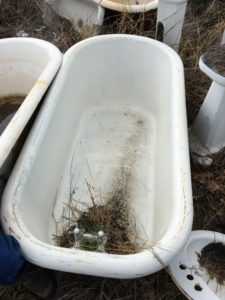 Clawfoot tub in its native habitat (e.g. discarded in a field).
About the time the foundation was being poured, we made a visit to the Clawfoot Tub Doctor, located near Brenham, Texas to see about purchasing an old cast iron tub.  Mike, the owner (and resident tub doctor), showed us the inventory scattered through his field.  We selected a 5 footer, which had an old nickel fixture, and made a deal with Mike to refinish it all. He worked more quickly than we did and the tub was ready in about a month, with new white enamel and a working fixture.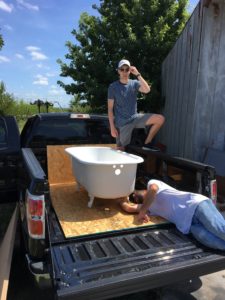 With Mike's help we loaded the tub onto the bed of our F-150, with his forklift. We then drove it back to the house, where I had a couple of burly guys waiting to help us unload. I would guess the tub weighted about 200 – 250 pounds, and could be managed by two strong fellows.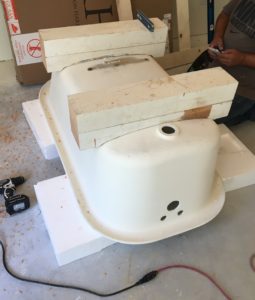 My wife decided to remove the antique claw feet, and our carpenters prepared a wood cradle from some scrap wood from another project. It's not yet installed — I will post another picture when were are finally done.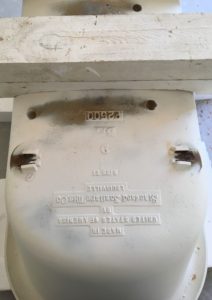 Made in the good old USA and, yes, it really is "old" — 1927.